Reading with Steve Almond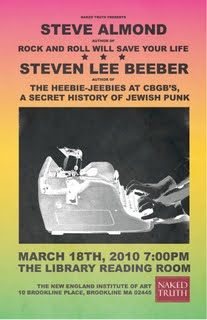 I'll be reading with the super-funny, super-cool, all round super-duper Steve Almond this Thursday. The occasion is the release of Almond's book,
Rock And Roll Will Save Your Life
. I, as the opening act, will be doing my
Heebie-Jeebies at CBGB's
thang. In other words, it will be a literary battle of the bands with the two Steves going line to line, comma to comma to see who will be King of the Rawk Writers.
The event begins at 7:00 P.M. at the New England Institute of Art in Brookline Village (see poster). More info on Steve's book at:
http://www.stevenalmond.com/index.html?utm_source=Masthead